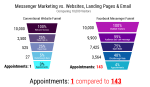 If you want to grow your business, you have to have a way to steadily and consistently generate good qualified prospects and leads that you can move forward through the sales process to a transaction.
Today I'm going to show you how consumer behavior is shifting drastically, and how you can capitalize on that to generate better leads that turn into customers faster and more often.
Like I said, the landscape is changing rapidly and moving in a direction that is making conventional marketing work less and less effectively at generating leads that turn into customers.
This will be a major problem for some companies in your space.
But, it's an even bigger opportunity for those that choose to move quickly and execute what I'm about to show you. Smart companies will capitalize on this change in market behavior and take advantage of it for significant growth.
Others will ignore it, keep doing things in their marketing the way they've always done it, and because of that, get left behind.
And it's already happening.
In this post, I'm going explain the shift that's happening in consumer behavior and show you how you can take advantage of this shift and profit from it in big ways. First, take a look at this image.
Which scenario would you rather have in your marketing???
Scenario A - Email - Send 1000 messages
OPENS: 20% of 2000 = 400 OPENS
CLICKS: 3% of 400 = 12 CLICKS
…
Continue reading